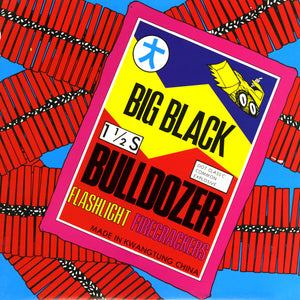 Big Black - Bulldozer EP
Tax included.
Shipping
calculated at checkout.
---
---
"Bulldozer" is the second EP by Big Black, originally released in 1983. It was their first release to feature an actual band performing, including Pat Byrne from Urge Overkill playing drums on some of the songs in addition to the Roland TR-606 drum machine that provided rhythm tracks on Big Black's early records.

On "Bulldozer", Big Black's founder and frontman Steve Albini achieved a signature "clanky" sound with his guitar by using metal guitar picks notched with sheet metal clips, creating the effect of two guitar picks at once. The "Bulldozer" EP was recorded with engineer Iain Burgess and released in December 1983, with the first two hundred copies packaged in a galvanized sheet metal sleeve in homage to Public Image Ltd.'s Metal Box.
Many of the EP's lyrics depicted scenarios drawn from Albini's midwest upbringing, such as Cables, which described the slaughtering of cows at a Montana abattoir, and Pigeon Kill, about a rural Indiana town that dealt with an overpopulation of pigeons by feeding them poisoned corn. The EP's final song, Jump the Climb, was recorded by Albini before the addition of his bandmates.
Tracklist:
1. Cables
2. Pigeon Kill
3. I'm a Mess
4. Texas
5. Seth
6. Jump the Climb
About this product: this reissue is pressed on black vinyl.