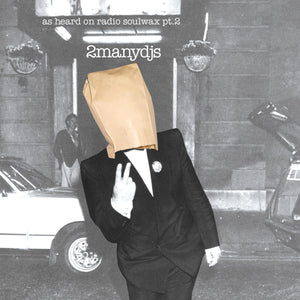 2manydjs / Various Artists - As Heard On Radio Soulwax Pt. 2 CD/2LP
Tax included.
Shipping
calculated at checkout.
---
---
"As Heard on Radio Soulwax Pt. 2" is the first album to be released by Soulwax members David and Stephen Dewaele also known as 2ManyDJs. It consists of 45 remixed tracks by a series of diverse artists including Dolly Parton, Basement Jaxx and 10cc.

While some of the tracks are conventional remixes, most tracks are mashup collages with the vocals of one song placed over the instrumental part of another. The sampled material was extensively cleared for commercial release; as a result, only 114 elements appear out of the 187 recordings that 2ManyDJs initially wished to use. The artwork of the album was also altered following lawsuit threats from the photographer of the original images.
The album became a commercial success in Belgium and a critical success elsewhere, eventually selling more than half a million copies worldwide.
Tracklist:
1. Peter Gunn (Live) [Emerson, Lake & Palmer]
2. Where's Your Head At (Head-a-pella) [Basement Jaxx]
3. Fuck the Pain Away [Peaches]
4. I'm Waiting for the Man [The Velvet Underground]
5. J'aime Regarder les Mecs [Polyester]
6. Dance to the Music [Sly And The Family Stone]
7. Oh Sheila (A capella) [Ready For The World]
8. I Wanna Be Your Dog [Dakar & Grinser]
9. Disko Kings [Ural 13 Diktators]
10. The "o" Medley [Bobby Orlando]
11. Silverscreen-Shower Scene [Felix da Housecat]
12. No Fun [The Stooges]
13. Push It [Salt 'n Pepa]
14. Joe le Taxi [Hanayo with Jurgen Paape]
15. Crush on You (A capella) [The Jets]
16. Funkacise [Funkacise Gang]
17. Motorcross Madness [Soul Grabber]
18. French Kiss [Lil Louis and the World]
19. Serious Trouble [Zongamin]
20. Androgyny (Thee Glitz Mix by Felix da Housecat) [Garbage]
21. Disk Jockey's Delight Vol.2 [Frank Delour]
22. Kaw-liga (Prairie Mix) [The Residents]
23. Shake Your Body [Carlos Morgan]
24. Into the Stars (Firebirds Remix) [Alphawezen]
25. Concepts [Interstellar]
26. 99 Red Balloons [Nena]
27. Independent Women Pt. 1 (A capella) [Destiny's Child]
28. Dreadlock Holiday [10cc]
29. 9 to 5 [Dolly Parton]
30. Eple [Royksopp]
31. Death Disco [Arbeid Adelt]
32. Keine Melodien [Jeans Team, feat. MJ Lan]
33. I Wish (A capella) [Skee.lo]
34. My Gigolo [Maurice Fulton Presents Stress]
35. Cannonball [The Breeders]
36. Human Fly [The Cramps]
37. Danger! High Voltage [The Wildbunch]
38. Don't Bring Me Down [op:1 Bastards]
39. Hand to Phone [Adult]
40. La Rock 01 [Vitalic]
41. I Was Made for Loving You [Queen of Japan]
42. The Beach [New Order]
43. Sandwiches (A capella) [Detroit Grand Pubahs]
44. I Sit on Acid (Soulwax Remix) [Lords of Acid]
45. Start Button [Streamer, feat. Private Thoughts In Public Spaces
About this product: this reissue is available on CD and 2LP formats.