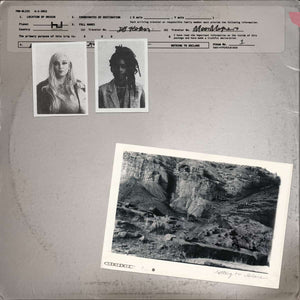 700 Bliss - Nothing To Declare LP
Tax included.
Shipping
calculated at checkout.
---
---
700 Bliss is the forward-thinking duo of DJ Haram and Moor Mother. Their first full length for Hyperdub is an album of noise rap that ties together the raw edges of club music and hip hop with punk energy, jazz, house-party catharsis, percussion-heavy analogue sound design, and cheeky skits, ranging from experimental rap tracks with rolling hi-hats and lyrical bravado, to poetry set to noise and sound collage.

Moor Mother and DJ Haram started collaborating in 2014 and eventually formed 700 Bliss, a blistering live act in Philly's DIY scene, releasing their 2018 debut, Spa 700 on Halcyon Veil / Don Giovanni Records.
Since that time, both artists have grown global followings. Moor Mother is a prolific solo artist and collaborator, writer, and member of Black Quantum Futurism while Haram has been curating and creating radio shows, DJing and producing (including an EP for Hyperdub in 2019).
"Nothing To Declare" is a smart, danceable revelation, a chiseled soundscape of dive bombing bass, piercing bleeps, crunchy distortion, and wavering synth lines. Welcoming in a variety of voices from their extended, cross-genre scene, 700 Bliss also bring along a cast of collaborators, including vocalists Orion Sun, Lawfandah, Ase Manual, and Ali Logout (from the band Special Interest), plus Palestinian producer Muqata'a, and writer M Téllez who delivers a surreal sci fi monologue over a pounding kick drum on More Victories.
"Nothing To Declare" is a deeply layered rewriting of hip hop and electronic music that gives more with each listen. You won't hear another rap album like it in 2022.
Tracklist:
1. Nothing to Declare
2. Totally Spies [feat. Lafawndah]
3. Nightflame [feat. Orion Sun]
4. Anthology
5. Discipline
6. Bless Grips
7. Easyjet
8. Candace Parker [feat. Muqata'a]
9. No More Kings
10. Capitol [feat. Alli Logout]
11. Sixteen
12. Spirit Airlines
13. Crown
14. More Victories [feat. M. Tellez]
15. Seven
16. Lead Level 15 [feat. Ase Manual]
About this product: this release is pressed on blue vinyl.