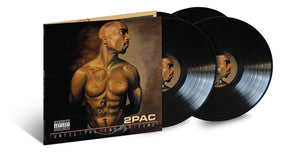 2Pac - Until The End Of Time (20th Anniversary) 4LP
Tax included.
Shipping
calculated at checkout.
---
---
"Until the End of Time" is the seventh studio album, and third posthumous album by 2Pac. It follows his previous posthumous albums "R U Still Down? (Remember Me)" and "Still I Rise". The album consists of material recorded while the rapper was on Death Row Records from 1995–1996. The album debuted at number one on the US Billboard 200 chart.

Highly anticipated, "Until the End of Time" was ultimately one of the best selling hip hop albums of 2001.
There were only three times references to Death Row Records were not censored (Until the End of Time (both versions), U Don't Have 2 Worry and All Out). The core vocal tracks and some instrumentation was recorded during and after the "All Eyez On Me" and "Makaveli: The Don Killuminati: The 7 Day Theory" sessions.
Tracklist:
1. Ballad of a Dead Soulja
2. Fuck Friendz
3. Lil' Homies
4. Let Em Have It
5. Good Life
6. Letter 2 My Unborn
7. Breathin
8. Happy Home
9. All Out
10. Fuckin wit the Wrong Nigga
11. Thug N U Thug N Me Remix
12. Everything They Owe
13. Until the End of Time
14. M.O.B.
15. World Wide Mob Figgaz
16. Big Syke Interlude
17. My Closest Roaddogz
18. Niggaz Nature Remix
19. When Thugz Cry
20. U Don't Have 2 Worry
21. This Ain't Livin
22. Why U Turn on Me
23. Lastonesleft
24. Thug N U Thug N Me
25. Words 2 My First Born
26. Let Em Have It Remix
27. Runnin on E
28. When I Get Free
29. Until the End of Time RP Remix
About this product: this reissue is pressed on 4x 180g black vinyl.