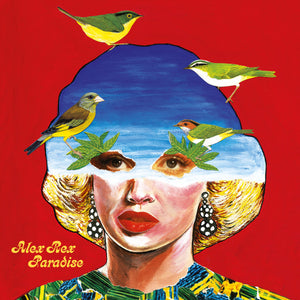 Alex Rex - Paradise LP
Tax included.
Shipping
calculated at checkout.
---
---
Singing drummers may now be in vogue, but very few combine the masterful musicianship, vivid lyrics and expressive vocals one experiences with Alex Rex. In fact, few musicians have a CV as impressive as band leader Alex Neilson. He's drummed with some of the most eclectic musicians of the international underground; from Bonnie "Prince" Billy to Shirley Collins, Jandek and Current 93. All on top of a 10-year stint with his own critically acclaimed psych-folk outfit, Trembling Bells.

"Paradise" is his fourth album as Alex Rex. Whilst the first three were shrouded in loss and loathing, "Paradise" is a different beast.
In many ways "Paradise" marks a fresh start for the Glasgow-based polymath. Reunited with ex-Trembling Bells vocalist Lavinia Blackwall for the first time since the band's demise - Marco Rea (Euros Childs) and regular collaborator Rory Haye make up the rest of the "Paradise" party, with guest vocalist Kacy Lee Anderson (Kacy and Clayton) blowing a seductive smoke-ring through one track. "Paradise" introduces us to a new and uncharacteristically playful side of Alex Rex.

Many of the songs on "Paradise" were written in early lockdown with no opportunity to rehearse, which also happens to be Neilson's preferred method.
"Choosing talented people to record 13 songs that they've never heard before with a 3-take limit…" he trills. "…to my mind this captures the songs at a vital tipping point - where parts are being discovered for the first time by musician and listener alike.".
Tracklist:
1. Lowlife
2. The Dark Inside the Shadow
3. Scandalise the Birds
4. Dancing Flame
5. What's Shouted in the Dark (the Dark Shouts Back)
6. The Great Experiment
7. I Remember
8. Funeral Bouqet
9. Ida
10. Black Peonies
11. Silver Apples of the Moon
12. Man is a Villain
13. Every Wall is a Wailing Wall
About this product: this release is pressed on black vinyl.