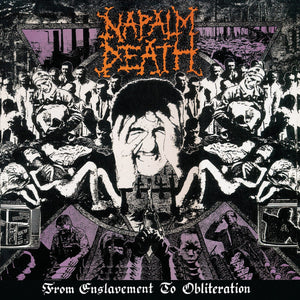 Napalm Death - From Enslavement To Obliteration LP
Tax included.
Shipping
calculated at checkout.
---
---
Second album for grindcore legends Napalm Death catapulted them into the bigtime when first released. Originally released in 1988, "From Enslavement to Obliteration" took the band from underground phenomenon to mainstream attention, showcasing an even more ferocious and raging sound than its predecessor "Scum".

Limited edition purple and white splatter vinyl with Earache Records exclusive '35 years Of Noise' branded OBI Strip and Hype Sticker. Includes new liner notes by Napalm Death's own Shane Embury, printed on a 12" colour insert with classic era photographs, exclusive to this special edition.
Only 1000 copies worldwide of this exclusive colour variant, a must have for any extreme metal vinyl collection.
Tracklist:
1. Evolved as One
2. It's a M.A.N.S World!
3. Lucid Fairytale
4. Private Death
5. Impressions
6. Unchallenged Hate
7. Uncertainty Blurs the Vision
8. Cock-Rock Alienation
9. Retreat to Nowhere
10. Think for a Minute
11. Display to Me...
12. From Enslavement to Obliteration
13. Blind to the Truth
14. Social Sterility
15. Emotional Suffocation
16. Practise What You Preach
17. Inconceivable? 
18. Worlds Apart
19. Obstinate Direction
20. Mentally Murdered
21. Sometimes
22. Make Way!
23. Musclehead
24. Your Achievement
25. Dead
26. Morbid Deciever
27. The Curse
28. Scum
29. Life?
30. Retreat to Nowhere
31. Internal Animosity
About this product: this is the RSD Black Friday '23 reissue on purple vinyl with white splatter. Includes an OBI strip.