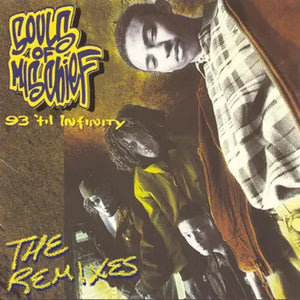 Souls Of Mischief - 93 'til Infinity (Remixes) LP
Tax included.
Shipping
calculated at checkout.
---
---
A timeless hip-hop classic, Souls of Mischief's 93 'Til Infinity was released in February 1993 on Jive Records, serving as the second single from their debut album of the same name.

A remarkable feat of lyricism, the track stands out from much of the harder hip-hop that was prevalent in the era. Subtly jazzy and melodic, the song drags listeners in with its winding rhymes, giving listeners a glimpse into how the West Coast brings the heat. Four amazing MCs combine forces to illustrate the power of hip-hop boasting, making this track a timeless hit.
To celebrate 30 years of 93 'Til Infinity, classic remixes are available on vinyl for the first time ever for RSD Black Friday.
Tracklist:
1. 83 'Til Infinity
2. 93 'Til Infinity (12" Remix Version)
3. That's When Ya Lost (I Ain't Trippin' Remix)
4. Make Your Mind Up (Rock On Mix)
5. Never No More (76 Seville Mix)
6. Good Feeling (12" Version)
7. 93 'Til Infinity (LP Instrumental)
8. 93 'Til Infinity (Remix Instrumental)
9. That's When Ya Lost (LP Instrumental)
10. Never No More (LP Instrumental)
11. Never No More (76 Seville Mix Instrumental)
12. 93 'Til Infinity (Acapella Version)
About this product: this is the RSD Black Friday '23 release on black vinyl.