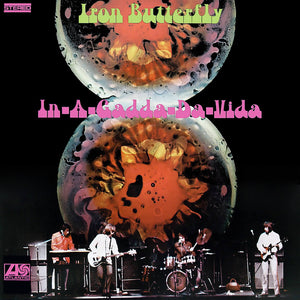 Iron Butterfly - In-A-Gadda-Da-Vida LP
Tax included.
Shipping
calculated at checkout.
---
---
Iron Butterfly's second album, "In-A-Gadda-Da-Vida", was cut from the same cloth as contemporary outings by fellow LA luminaries The Seeds, The Music Machine and The Strawberry Alarm Clock, yet it outshone them all.

"In-A-Gadda-Da-Vida" sold in excess of one million copies in its first year alone and became the soundtrack to the summer of 1968, its 17-minute title track defining a generation of stoned alternative rock fans. "In-A-Gadda-Da-Vida" has taken on a life of its own, having been used in many films (Manhunter, Resident Evil: Extinction) and TV shows (The A Team, Seinfeld, The Simpsons - twice!), as well as being covered (Slayer, Boney M) and sampled (Beck, Nas) numerous times.
Tracklist:
1. Most Anything You Want
2. Flowers and Beads
3. My Mirage
4. Termination
5. Are You Happy
6. In-A-Gadda-Da-Vida
About this product: this is the Rocktober reissue on clear vinyl.