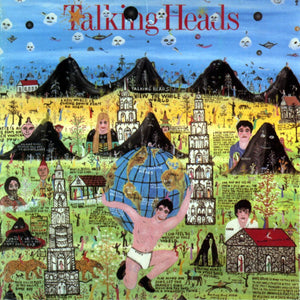 Talking Heads - Little Creatures LP
Tax included.
Shipping
calculated at checkout.
---
---
RELEASES ON THE 6/10/23
Having spent the early '80s in a giddy expansion of the sound and scale of their studio recordings and concerts, Talking Heads come full circle with this 1985 album, retracting to the core quartet and restoring a focus on David Byrne's knotty songs.
Arriving in the wake of the fevered rhythms of "Speaking in Tongues" and "Stop Making Sense", Little Creatures's new material sounds freshly lyrical, remarkably concise, even subdued, but there's the usual whimsy - the levitating heroine of the jangling, punchy opener, And She Was, the cracked child-rearing advice of Stay Up Late, and the galloping, anthemic reminder that we're on the Road to Nowhere.
Tracklist:
1. And She Was
2. Give Me Back My Name
3. Creatures of Love
4. The Lady Don't Mind
5. Perfect World
6. Stay Up Late
7. Walk It Down
8. Television Man
9. Road to Nowhere
About this product: this is the Rocktober reissue on blue vinyl.