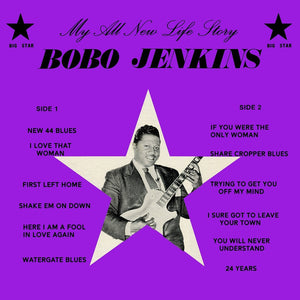 Bobo Jenkins - My All New Life Story LP
Tax included.
Shipping
calculated at checkout.
---
---
Bobo Jenkins's first recordings came out on the Chess, Fortune and Boxer labels in the 1950s. This 12-song LP compiles his 1970s output of incredibly raw and stripped down blues.
The tracks included were recorded using a revolving door of Detroit musicians during late night/all night sessions in Bobo's makeshift Detroit recording studio - and record shop - and were originally released on his own Big Star Records.
It would come as no surprise to find out that bands like The Cramps and The Gories had copies of these singles in their collections.
Tracklist:
1. New 44 Blues
2. I Love That Woman
3. First Left Home
4. Shake Em on Down
5. Here I am a Fool in Love Again
6. Watergate Blues
7. If You Were the Only Woman
8. Share Cropper Blues
9. Trying to Get You Off My Mind
10. I Sure Got to Leave Your Town
11. You Will Never Understand
12. 24 Years
About this product: this is the Record Store Day 2021 pressing on purple splatter vinyl.