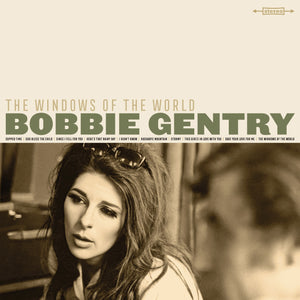 Bobbie Gentry - The Windows Of The World LP
Tax included.
Shipping
calculated at checkout.
---
---
Bobbie's journey from country singer-songwriter to blue-eyed soul diva stopped off at a hitherto unknown destination along the way.
Before she arrived at Muscle Shoals to work her magic with the late great Rick Hall, Bobbie cut a laid back album of classic and contemporary jazz tunes that was abandoned before it had chance to see the light of day. This was a shame, as Bobbie proves herself as adept in this genre as in any other.
This self-produced collection first saw the light of day on the Bobbie Gentry boxset, but this lost album deserves to have its own separate release and what better format than vinyl? The set exudes a sophisticated and intimate late-night vibe mostly featuring Bobbie alone with her guitar accompanied by a bass player; occasionally there is a whisper of strings from Jimmie Haskell who famously composed the cello and violin arrangement on Ode to Billie Joe.
Gentry fans will find much to love in Bobbie's short-lived but brilliant turn as a jazz singer. The original 8 tracks to be supplemented by the I Didn't Know and Hushabye Mountain demos recorded around the same time, this LP also features the previously unreleased Hushabye Mountain [alternate version].
Tracklist:
1. Supper Time
2. God Bless the Child
3. Since I Fell for You
4. Here's That Rainy Day
5. I Didn't Know (Demo)
6. Hushabye Mountain (Unreleases Alternative Version)
7. Stormy
8. This Girl's in Love with You
9. Save Your Love for Me
10. The Windows of the World
About this product: this is the Record Store Day '21 release on 180g vinyl, includes an essay.