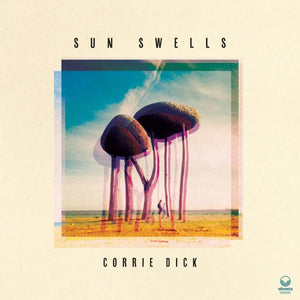 Corrie Dick - Sun Swells LP
Tax included.
Shipping
calculated at checkout.
---
---
RELEASES ON THE 6/10/23
Corrie Dick, a musician and composer specialising in euphoric, sonically-inventive drumming, is at the rhythmic epicentre of a new era of innovative British jazz. He is lauded for his dynamism, his melodic slant and for his playfully subversive take on style and genre.
An artist of prolific and varied output, Corrie has long been an essential component of Laura Jurd's music including Mercury Prize shortlisted "Dinosaur"; is a crucial co-pilot in Elliot Galvin Trio and Rob Luft Group; and co-writes music with an abundance of artists including alternative Indie band Ink Line. His 2015 release "Impossible Things" which skilfully fused Celtic folk and contemporary jazz with new takes on African rhythms culminated in sold out touring and concerts across the UK.
Now Corrie resets for an album which further embraces the eclectic whims of a child of the iPod shuffle generation - finding cohesion among disparate elements. Concerning the idea behind "Sun Swells", his latest project, Corrie explains: "I wanted to write a jazz album that had rock instrumentation at its core: guitar-bass-drums. Rob Luft (guitar), Tom McCredie (bass) and I have been improvising and writing together for years and years and we've forged a sound that is uniquely crunchy yet summery, so I wanted that sound at the centre but decorated with all sorts of elements. I basically wanted to make folk-rock-jazz but treat it how electronic music producer Mura Masa treats his tracks--chucking the whole damn fruit bowl at the thing but somehow keeping space and air in the arrangement and the mix."
The music on Sun Swells is highly unique in a way that is becoming a trademark for the highly-gifted artist.
Tracklist:
1. Warehouse
2. Everything The Light Touches
3. Golden Flowers
4. Fingers Full Of Meaning
5. We Were Green
6. Sinking
7. She Speaks
8. Light Blue Igloo
9. The River
10. Says Who?
About this product: this release is pressed on black vinyl.