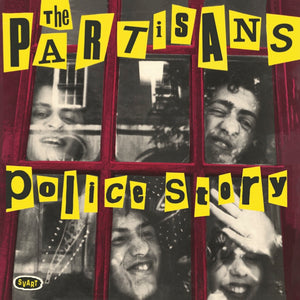 The Partisans - Police Story LP
Tax included.
Shipping
calculated at checkout.
---
---
Svart Records proudly presents the reissue of classic debut album by early 80's Welsh punksters The Partisans!

The Partisans, often described as "The Professionals meet The Clash", were a punk band from Wales that started in '78, when all four members were still in their early teens. Their self titled debut album hit No.5 in the Independent Chart and No.1 in the Punk Chart when first released on (the highly collectable) No Future Records back in 1983.
"Police Story" is an extended edition of their debut album accompanied with additional tracks from the Police Story / Killing Machine 7" (1981) and "17 Years Of Hell EP" (1982).
"Both consistent and powerful, this debut album by The Partisans contains a bevy of fine composition exploring themes of social protest and youth rebellion. An exciting version of 17 Years of Hell accompanies new streamrollers like No U-Turns and I Never Needed You? - possibly the best material this band has ever committed to vinyl." - Maximum Rocknroll
Tracklist:
1. Police Story
2. Killing Machine
3. No U Turns
4. 17 Years of Hell
5. No Time
6. Put Your Money Where Your Mouth Is
7. Don't Blame Us
8. Arms Race
9. I Never Needed You
10. I Don't Give a Fuck
11. Mindless Violence
12. Partisans
13. Fire
14. Overdose
15. Power & The Greed
16. Bastards in Blue
About this product: this reissue is pressed on transparent yellow vinyl.