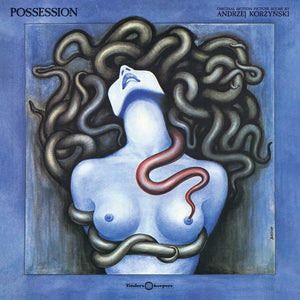 Andrzej Korzyński - Possession LP
Tax included.
Shipping
calculated at checkout.
---
---
The intended "Possession" score in its entirety marks an important axis in Korzynski's career where his various musical disciplines overlap. In one respect it marks his first forays into to synth driven electronics and disco drum machines, while other tracks epitomise the well honed techniques used in previous Zulawski scores, such as Third Part Of The Night and The Devil, which rely on his inimitable orchestral arrangements and combination of clavinet, Rhodes, piano and electric guitar.

Available once again on black 12" vinyl for the first time since its original release some 11 years ago, our ongoing commitment to the important restoration of Korzynski's music aims to shed new light on the seldom manufactured productions of the composer whose vast cinematic catalogue warrants overdue global status alongside other golden era Eastern European composers such as Kryzstof Komeda, Jan Hammer and Zdenek Liska – not to mention the best of the French and Italian soundtrackers, such as Roubaix, Vannier and Nicolai.
Duplicated and carefully remastered directly from Korzynski's original master tapes this album boasts the uninhibited studio experiments and retains the pre-cut ambience.
Tracklist:
1. The Night the Screaming Stops (Opening Titles)
2. Opetanie 1
3. Meeting with the Pink Tie
4. Opetanie 2
5. Anna Rewards Mark
6. Possession - Orchestral Theme 1
7. Kreuzberg 1
8. Opetanie 3
9. Mark Looks in the Fridge
10. Heinrick's Demise
11. Opetanie 4
12. Possession - Orchestral Theme 2
13. Blue Ford B-AZ6
14. Helen Has Green Eyes
15. Opetanie 5
16. Bloody Embrace
17. Kreuzberg 2
18. Detective's Desserts
19. Kreuzberg 3
20. Kreuzberg 4
21. The Night the Screaming Stops (Tempo)
22. Mark Formulates a Plan
23. Mark Sees Everything
24. Closely Observed Anna
25. Opetanie 6
26. What Is It?
27. The Man with the Pink Socks
About this product: this reissue is pressed on black vinyl.