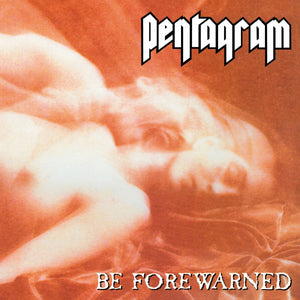 Pentagram - Be Forewarned CD/LP
Tax included.
Shipping
calculated at checkout.
---
---
Starting life in the early 1970's, US band Pentagram are one of the most enduring & influential underground bands in Heavy Metal history. Influenced by British bands The Groundhogs and Black Sabbath, their own unique take on Doom Metal has subsequently influenced everyone from Paradise Lost to Cathedral.

Peaceville signed the band in the early 1990's & released the 3 classic albums, "Relentless", "Day Of Reckoning" and "Be Forewarned" before the two also reunited once more for the well-received 2015 comeback opus, "Curious Volume".
"Be Forewarned" was an acclaimed follow-up of heavy metal and doom-fuelled riffing combined with dark lyrics from the ever-enigmatic frontman Bobby Liebling. The album was originally released in 1994, and included some of the band's strongest material to date, with Pentagram's trademark riffs and hooks ever present on classics such as Wolf's Blood and Bride Of Evil, with a portion of the featured tracks originally conceived back in the 1970s.
Tracklist:
1. Live Free and Burn
2. Too Late
3. Ask No More
4. The World Will Love Again
5. Vampyre Blood
6. Life Blood
7. Wolf's Blood
8. Frustration
9. Bride of Evil
10. Nightmare Gown
11. Petrified
12. A Timeless Heart
13. Be Forewarned
About this product: this reissue is available on CD and LP formats.
The LP is pressed on black vinyl.