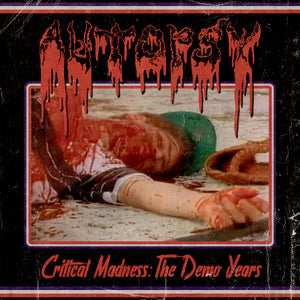 Autopsy - Critical Madness: The Demo Years CD
Tax included.
Shipping
calculated at checkout.
---
---
"Critical Madness: The Demo Years" compiles the classic earliest works of the kings of sickness in their formative years, leading with Autopsy's first demo from 1987 along with 1988?s legendary "Critical Madness" demo, which quickly resulted in the band inking a deal with Peaceville and the subsequent release of the genre staple debut, 1989's "Severed Survival".

The release is completed by the rare track Christ Denied plus a selection of raw rehearsal recordings of material from 1987 & 88, most of which would later feature on the bands studio debut.
One of the early breed of US Death Metal acts, Autopsy formed in 1987 in San Francisco by former Death drummer, Chris Reifert, and released four albums on Peaceville Records, commencing with the early genre-defining albums "Severed Survival" & "Mental Funeral". After disbanding in 1995 - with members going on to form Abscess - Autopsy triumphantly returned from the grave after a 15-year hiatus with the 2010 EP, "The Tomb Within" (followed by the release of the band's fifth studio album, "Macabre Eternal" in 2011).
The band has remained at the top of the Death Metal pile since, having just celebrated their 30th anniversary with the brutal and non-too-subtle assault on the senses, "Puncturing the Grotesque".
This edition of "Critical Madness: The Demo Years" is a mid-price CD presented in jewel case packaging complete with an 8-page booklet and OBI card.
Tracklist:
1. Human Genocide
2. Embalmed
3. Stillborn
4. Mauled to Death
5. Stillborn (Rehearsal '87)
6. Mauled to Death (Rehearsal '87)
7. Charred Remains
8. Ridden with Disease
9. Critical Madness
10. Embalmed (Rehearsal '88)
11. Disembowel (Rehearsal '88)
12. Christ Denied