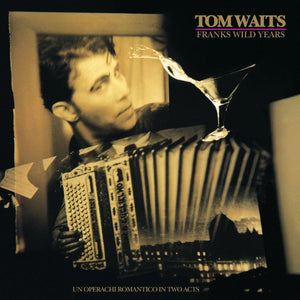 Tom Waits - Frank's Wild Years CD/LP
Tax included.
Shipping
calculated at checkout.
---
---
CD AVAILABLE // LP RELEASES ON THE 22/9/23
The third part of Waits' trilogy (with "Swordfishtrombones" and "Rain Dogs") became his first stage production as we follow Frank from burning down his house to almost hitting the big time. Marvellously inventive songs that mix a myriad of styles, rumba, romantic ballads, european folk, twisted show tunes, and demented jazz.

Features Innocent When You Dream, Hang on St Christopher, Yesterday is Here, etc.
2023 Remaster.
Tracklist:
1. Hang on St. Christopher
2. Straight to the Top (Rhumba)
3. Blow Wind Blow
4. Temptation
5. Innocent When You Dream (Barroom)
6. I'll Be Gone
7. Yesterday is Here
8. Please Wake Me Up
9. Frank's Theme
10. More Than Rain
11. Way Down in the Hole
12. Straight to the Top (Vegas)
13. I'll Take New York
14. Telephone Call from Istanbul
15. Cold Cold Ground
16. Train Song
17. Innocent When You Dream ('78)