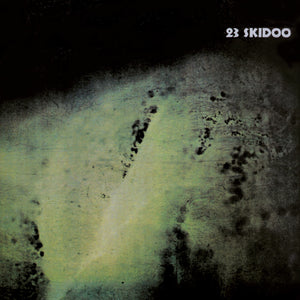 23 Skidoo - The Culling Is Coming CD
Tax included.
Shipping
calculated at checkout.
---
---
Les Disques du Crepuscule present a new 76-minute CD edition of "The Culling Is Coming" by 23 Skidoo, originally released on vinyl by Crepuscule and sister imprint Operation Twilight in February 1983.

"The Culling Is Coming" signposted two radical new directions for Skidoo following the success of their indie chart-topping debut "Seven Songs" the previous year. Drawing from two extraordinary live performances, "Culling..." combines a collaboration with the Balinese Gamelan Orchestra recorded at Dartington College of Music in October 1982 (subtitled A Winter Ritual), together with extracts from a more extreme improvised set performed at the first WOMAD festival in July 1982, using scrap metal and tape loops (A Summer Rite).
The original vinyl album is expanded on CD by the inclusion of a complete (and equally extreme) 26-minute loop performance (An Autumn Journey) at Tielt in Belgium on 8 October 1982, recorded as part of Crepuscule's short Move Back-Bite Harder tour with Cabaret Voltaire, Tuxedomoon, Antena and The Pale Fountains.
The booklet features the original artwork, archive images and contextual notes by Alex Turnbull of 23 Skidoo.
Tracklist:
- PART 1 - A WINTER RITUAL -
1. G-2 Contemplation
2. S-Matrix
3. G-3 Insemination
4. Shrine
5. Mahakala
- PART 2 - A SUMMER RITE -
6. Banishing
7. Invocation
8. Flashing
9. Stifling
10. Healing (for the Strong)
- PART 3 - AN AUTUMN JOURNEY -
11. Move Back - Bite Harder